Normally I'm not an early bird, rather like to sleep long into the day. But if there is something special that you can see and photograph only early in the morning, I'm eager to get up. Sunrise at nice viewpoints, and more generally the hour after sunrise, when the sun still stands low, the light is still warm and shines more from the side than from above, are often enough reason for me to get up early in Indonesia – more than at home! One other reason is that often, there is good visibility early in the morning, which then rapidly decreases as clouds come up during the day.
During the day, the volcanic cone of the Kiematubo was always shrouded in clouds,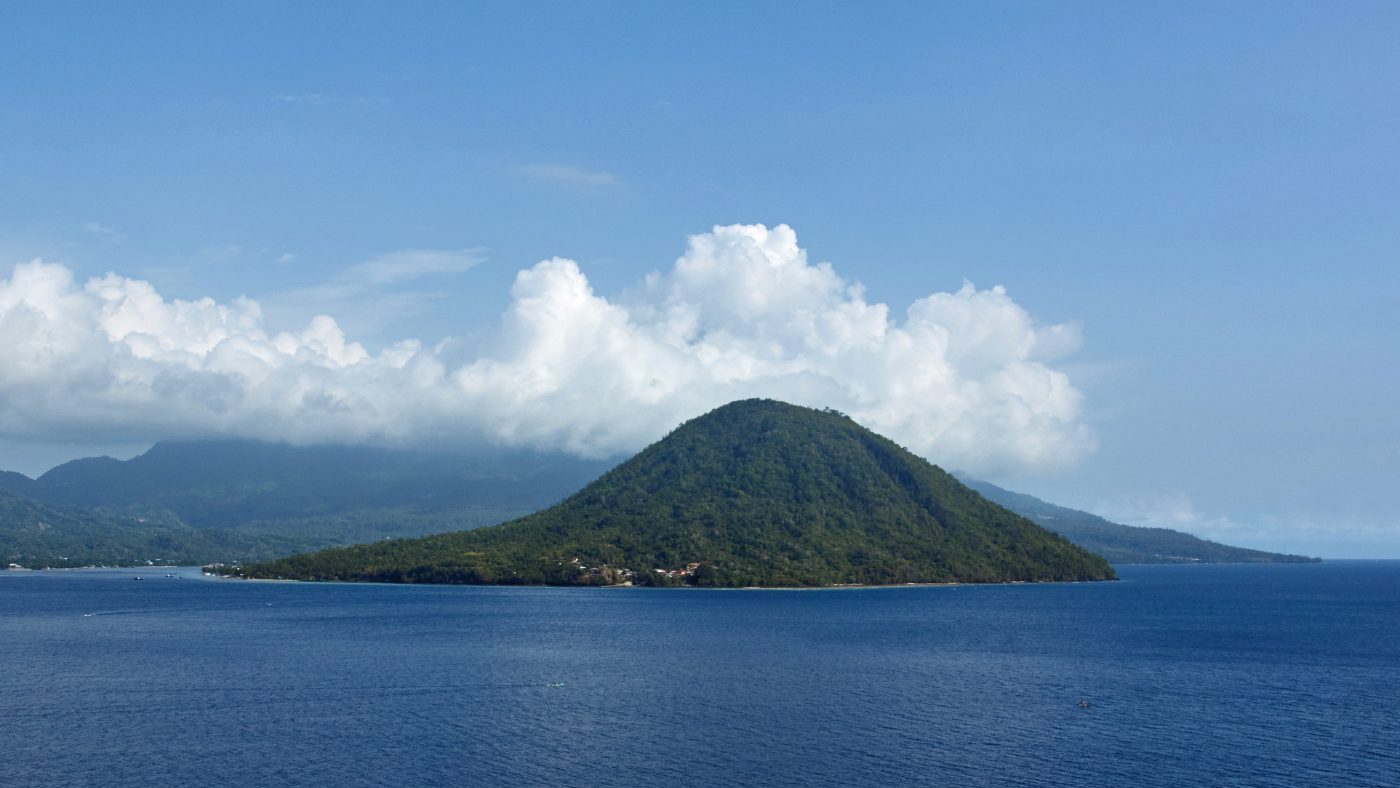 only early in the morning the top could be seen clearly.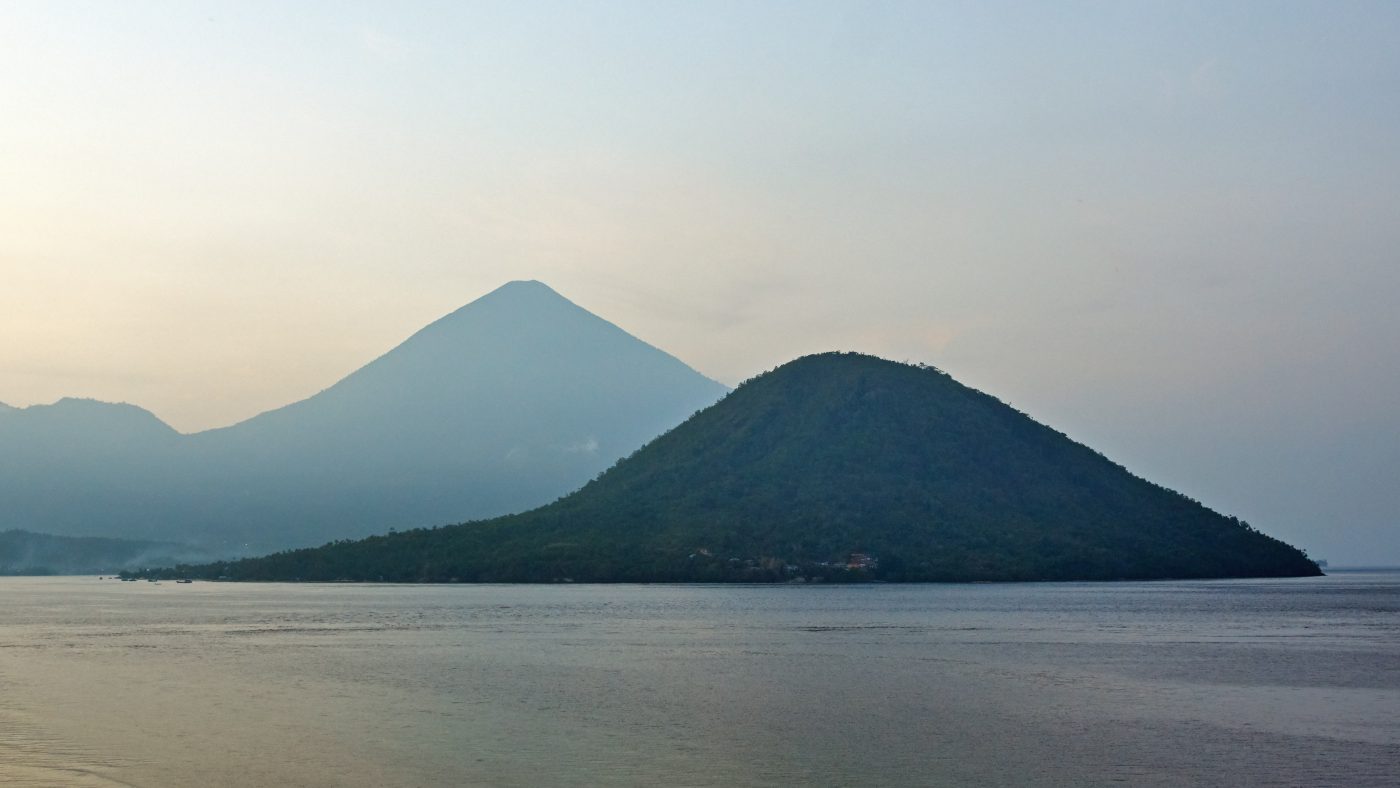 Kiematubo is the rear, further away cone; its height is 1750 meters.
In Indonesia, it is quite popular to hike mountains or viewpoints at night, so that you are at the point for sunrise – not only for the already mentioned reasons, but also because at daytime, in the hot and humid tropical climate, such hikes can be very strenuous.
A few days after my arrival in Ternate, I climbed the Kiematubo on the neighboring island of Tidore. Kiematubo is a "sleeping" volcano, whose deep crater is overgrown by the greenest tropical vegetation that I have seen from above.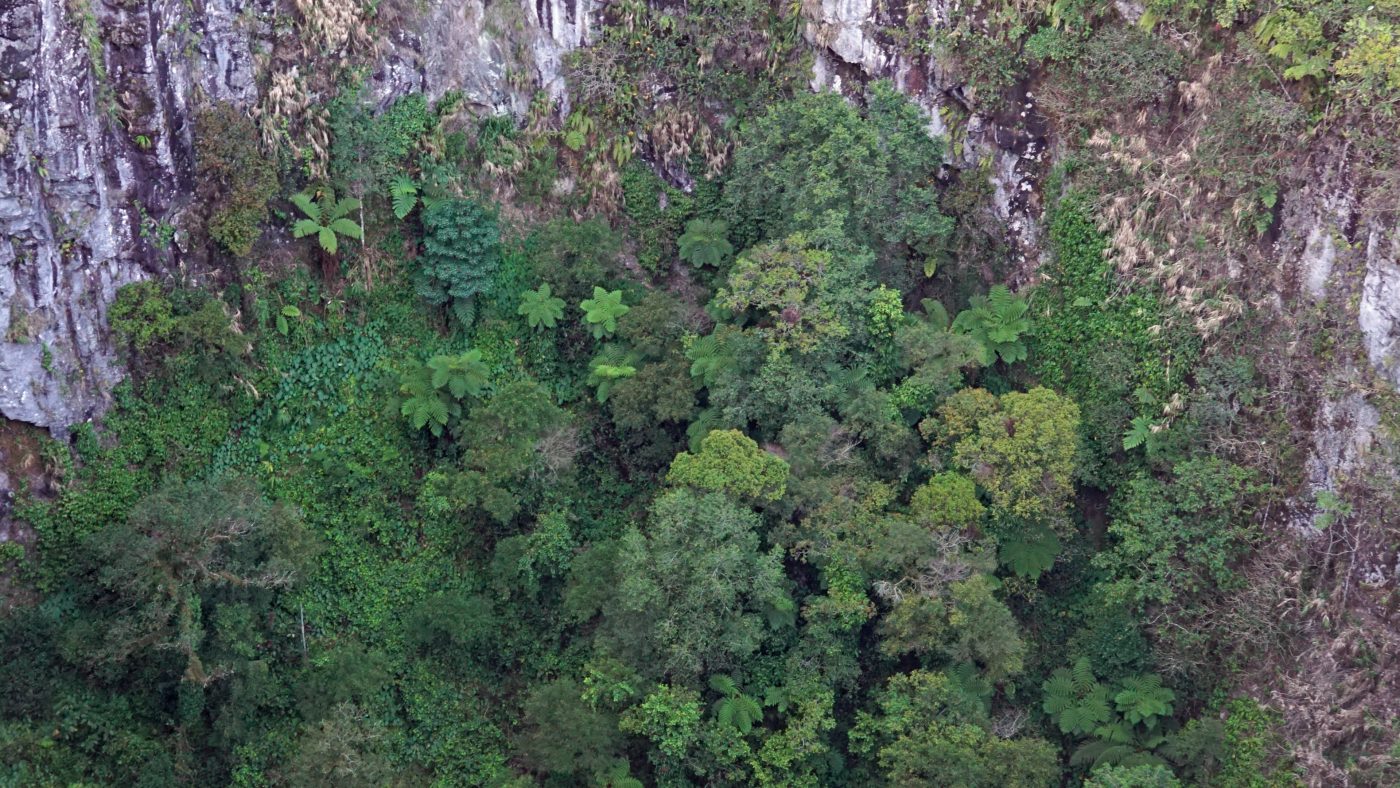 From up there, you can look down on Tidore's "capital", Soasio town, and over to several neighboring islands, Ternate, Maitara, Mare, Moti, and Halmahera.
The locals that I engaged as guides told me it takes 3 hours to climb from the nearest village to the top, but since I am not a well trained hiker and lugged along my heavy photo bag (a Tamrac 614 superpro!) we needed a full hour more.
When we arrived at the top, I made a couple of night shots,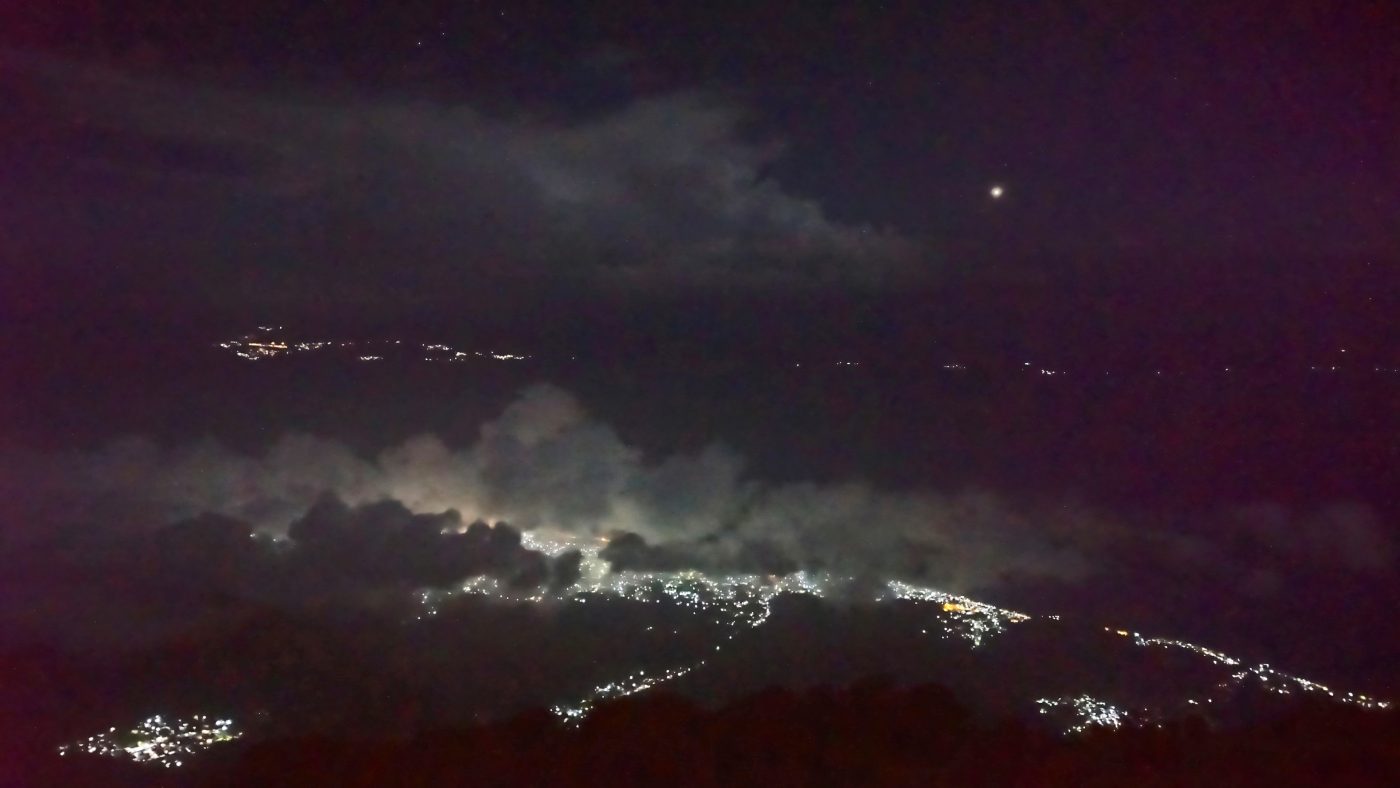 then I tried to catch a few hours of sleep until sunrise. But without a mat, sleeping bag or any other sort of protection against the cold wind, I could not sleep. My 2 local guides had the same problem, so after some time we got up, sheared some of the dry reed grass that grows around the top, and made a fire, so that we could warm at least our hands.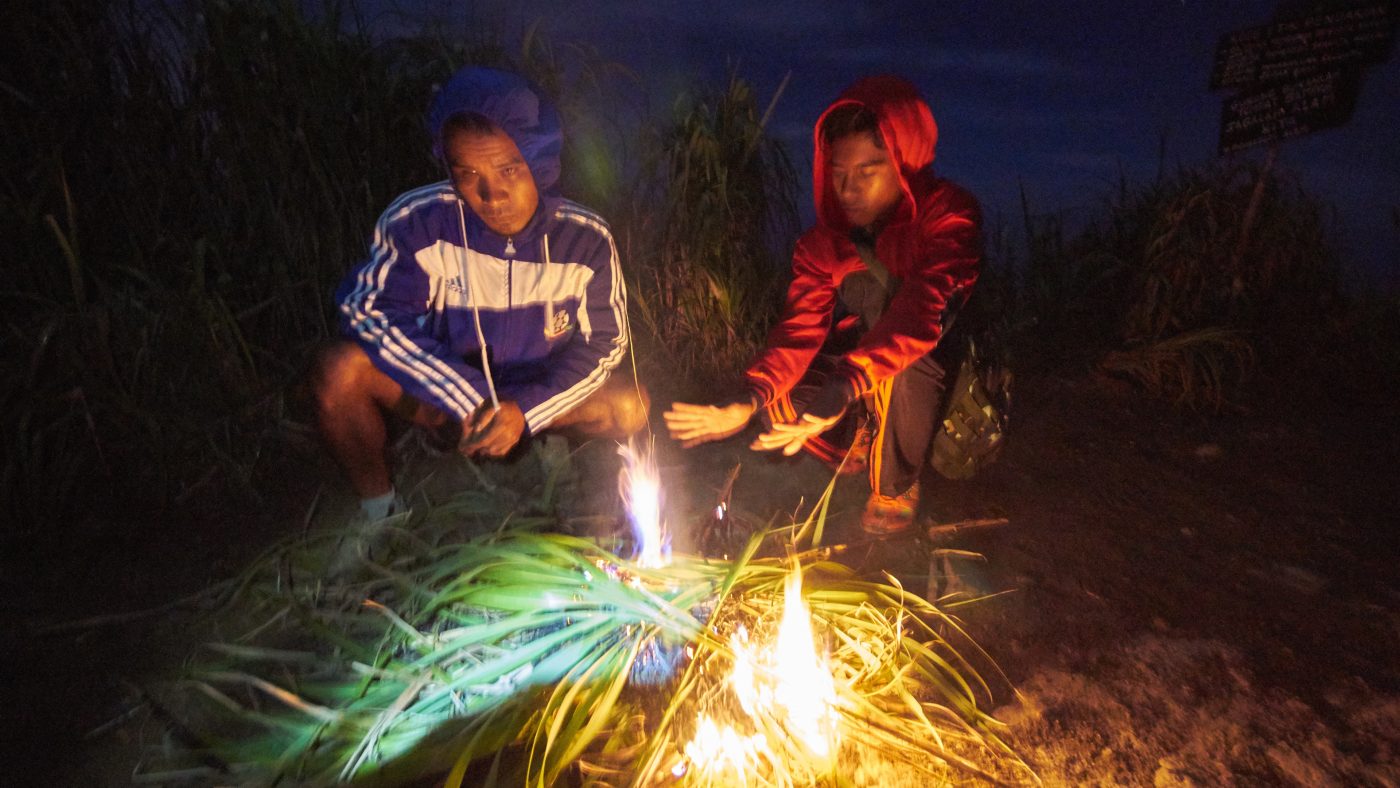 Soon after that, morning started to dawn. At night, one could only see the lights of the settlements around us, but now, the shape of the Gamalama, Ternate's home volcano, emerged from the darkness.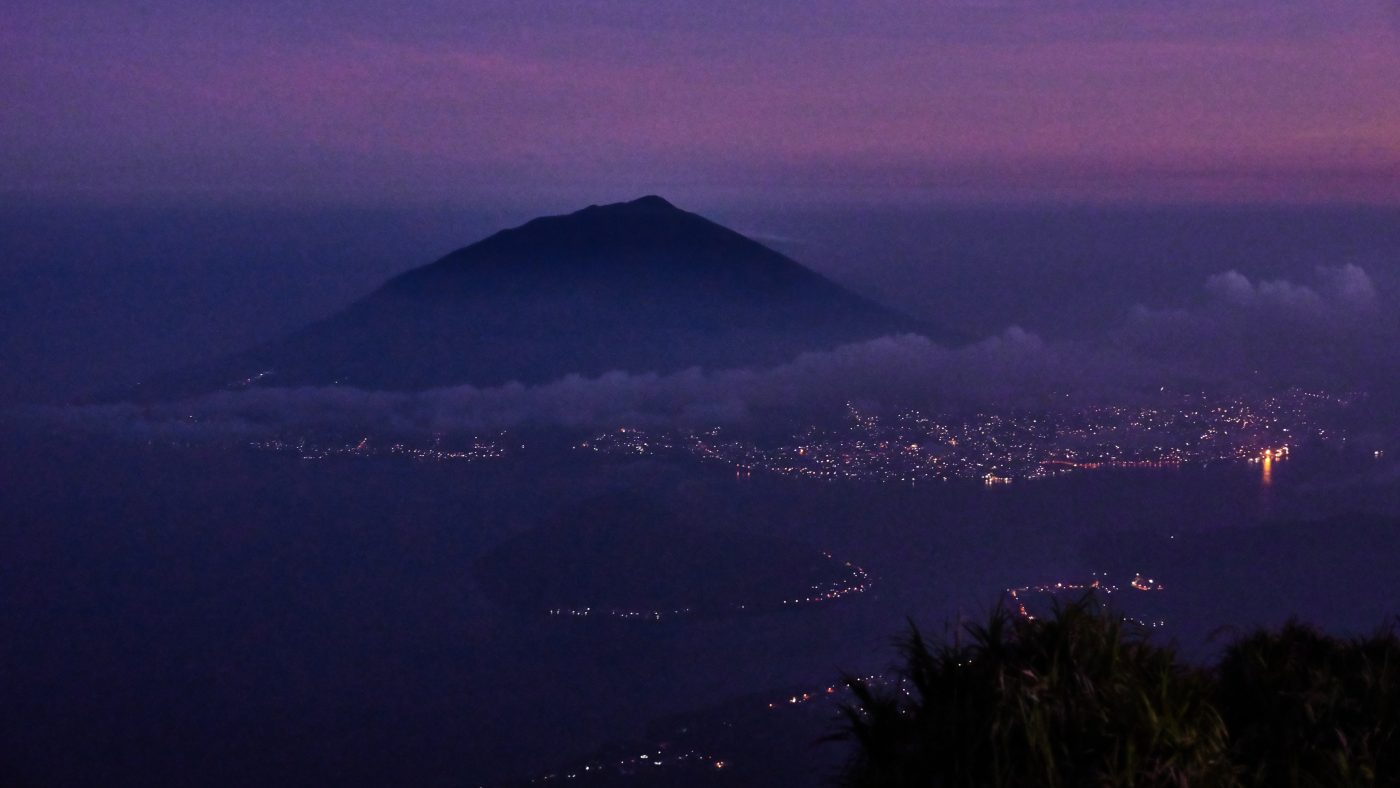 In the east, over Halmahera, the morning star shone on the already bright sky, while Soasio, which was shaded by a high cloud, still was dark, and still has its street lights on (click on the pictures to see the full size versions).
Walking down took another 4 hours. This whole tour was so exhausting that I felt it for well over a week – my muscles were stiff and sore like never before. I hardly couldn't make a move in the next few days!
Next time I got up for sunrise was at the Ibu volcano.
A couple weeks later I was on Bali, where I was able to take some nice pictures at sunrise again. At the northern rim of mount Batur's outer caldera, there are viewpoints where you can see 3 volcanos at once, if visibility is good.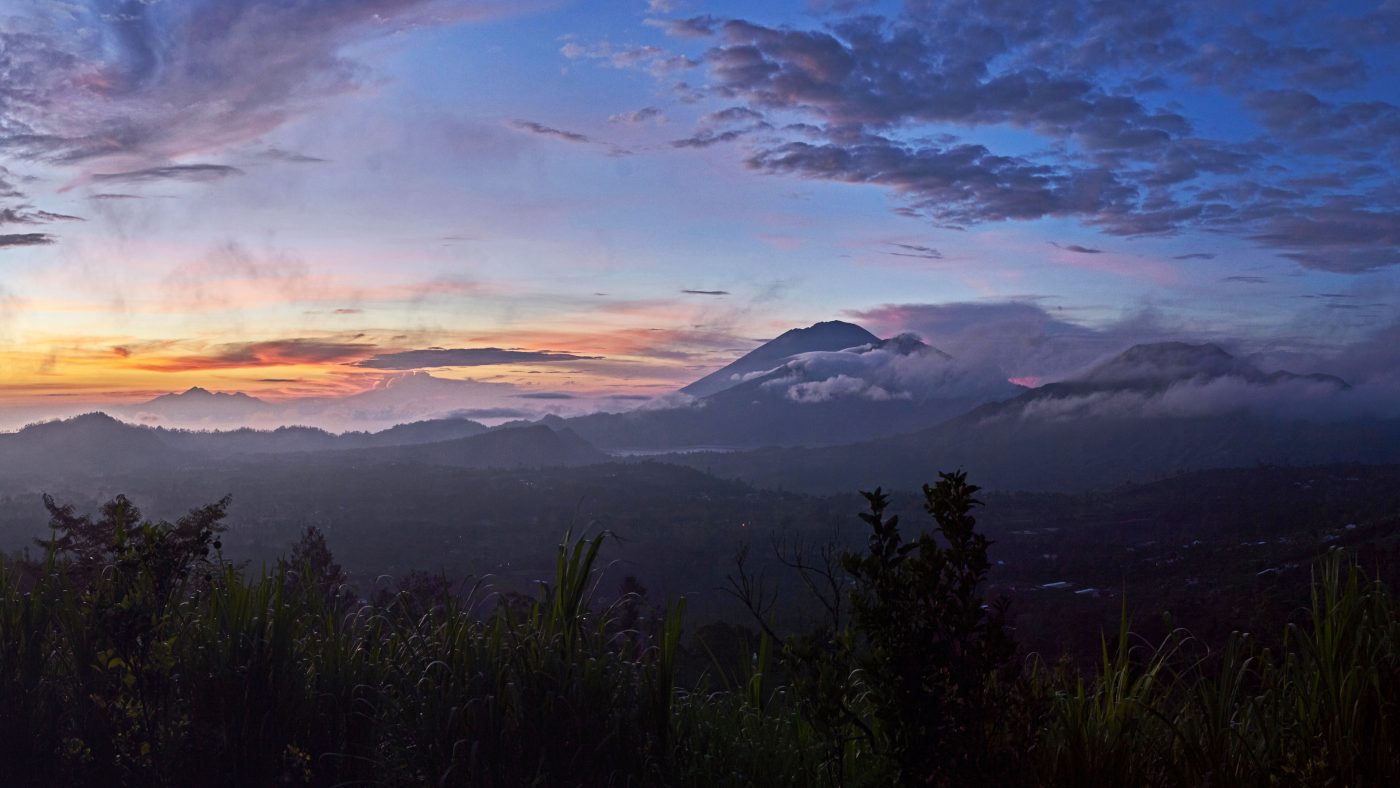 At right, the nearest cone, shrouded in clouds, is mount Batur. It is about 5 km from my viewpoint. To its left, and already 23 km away, is mount Agung, Bali's highest mountain. At left, you can recognize mount Rinjani's characteristic shape. Rinjani is 125 km away on the neighboring island of Lombok. With 3726 meters, it is Indonesia's 2nd highest volcano.
You need a little luck to encounter visibility good enough to be able to see this far. Considering that I went there in the rainy season (early April) I guess I was very lucky. On my first trip to Bali in 1988, I climbed mount Batur for sunrise, but, although the viewpoint up there is even a bit higher, I could not see over to Lombok.
And also this time, I could see Rinjani only for a short time. Soon after sunrise, clouds came up and obstructed my view. There was just enough time to picture sunbeams shining into the caldera, a mystical view as I like them so much.
When I rode back to Ubud with my rented scooter, I got very wet from the heavy monsoon rains that caught me. A rain coat that I had did not really help. At this altitude – the northern rim road goes up to 1700 meters above sea level -, and when the sun doesn't shine, it's not really tropically warm. When you are wet, the airflow then quickly makes you feel terribly cold.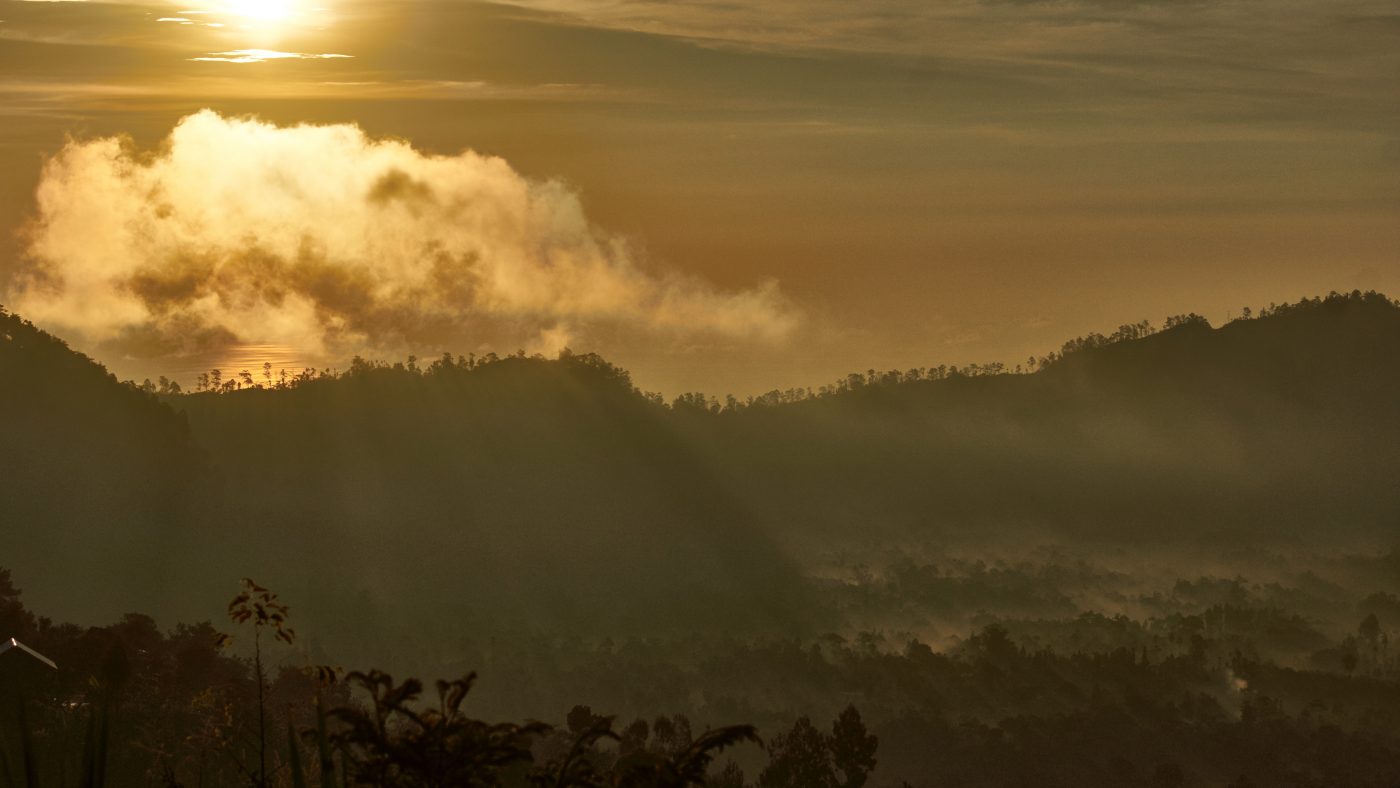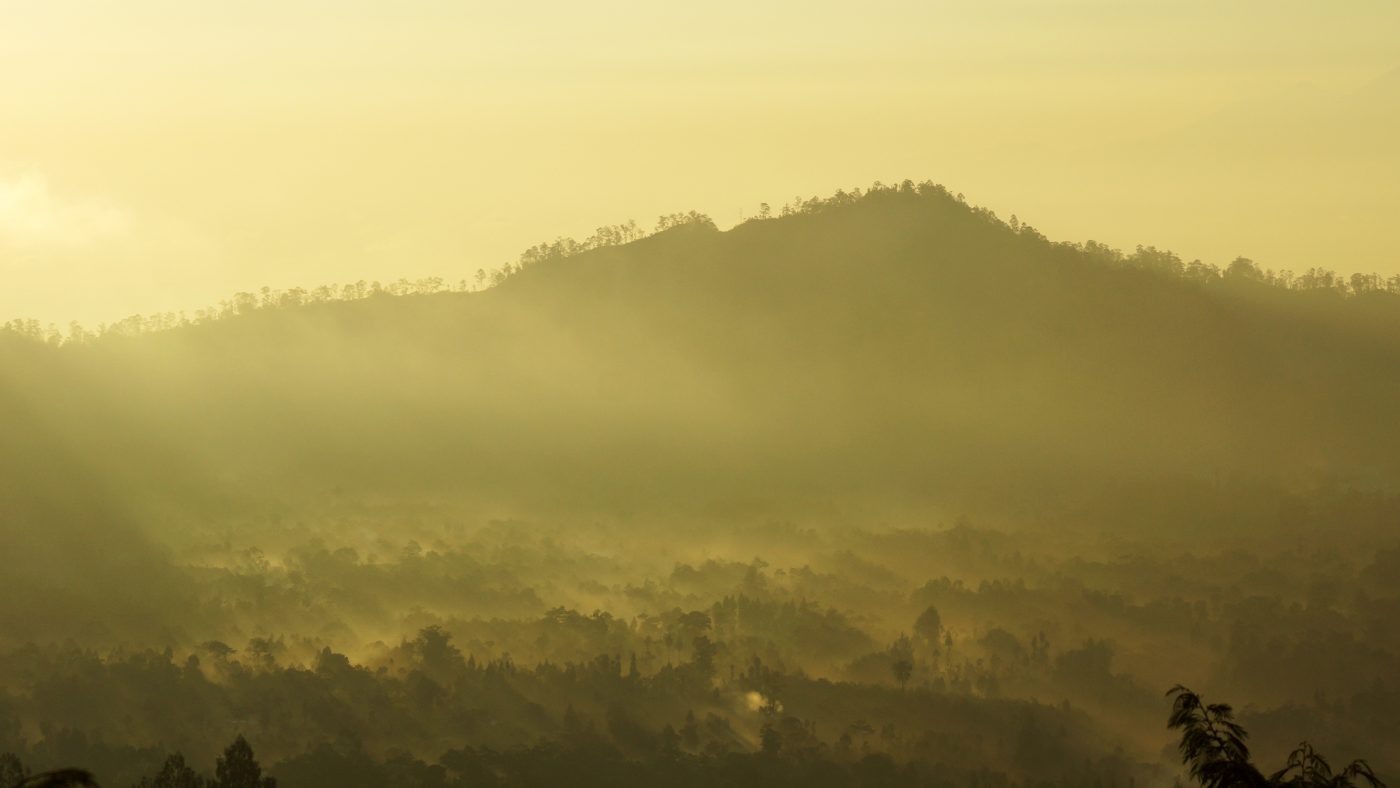 On my first visit to the region I hadn't found a really good viewpoint before sunrise, so I came back to the place 2 days later. This time I got wet already on the way up – not from rain, but from fog as dense as cotton wool. At some sections along the northern rim road, I had to go as slow as walking speed, because I barely could see the front wheel of my scooter!
I then found a viewpoint that, judging from a look at the topo map in my smartphone, looked more promising. But until shortly before sunrise time, I didn't have any hope for better visibility. Nevertheless I set up my tripod, then went to a small nearby cowshed to warm up. To my surprize, shortly before sunrise time, the clouds rived, so that I was able to shoot a high resolution panorama of this phantastic landscape. (Click on it to see it in full size!)

At the very right, near the rim of the caldera, you can still see the rests of the fog that had slowed me down and wetted me when coming here.
Java also boasts some viewpoints that reward getting up early. Probably the best known one is the Bromo volcano, where a long trek of Jeeps starts rallying up to the known viewpoints as early as 2:30 at night. It's not really romantic, but of course you don't have to do it this way, that the (seemingly all) lazy tourists do it. Instead of boarding a rundown 4-wheeler, use your own feet to hike up from the village of Cemoro Lawang on the outer caldera's rim, where there are a couple of simple hotels and lodges. It's not a particularly demanding hike, only about 4 km far and 400 meters up.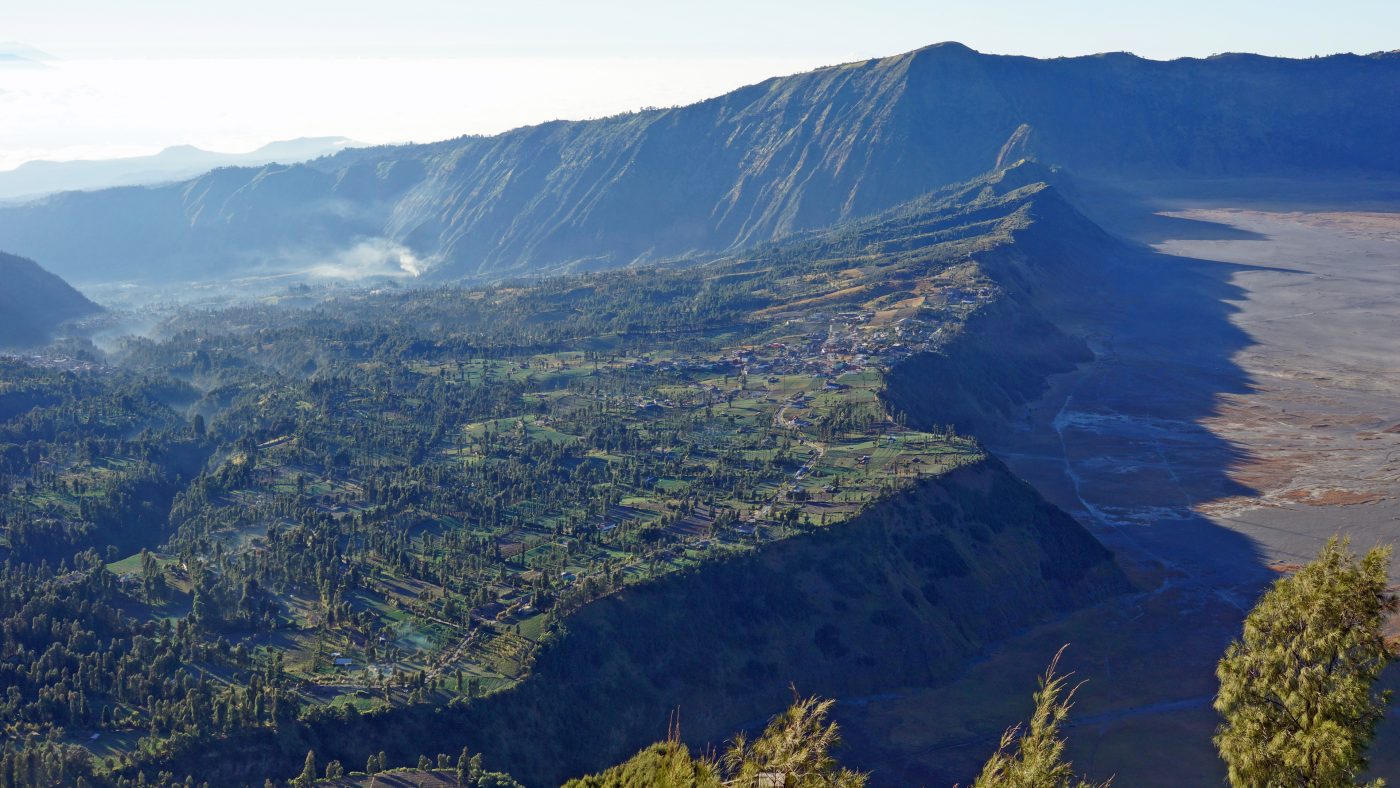 After having seen the sunrise from up there, you understand why this excursion is so popular. The view that you get to see seems like from another world, simply phantastic.
If you get there well before sunrise and secure a location with good views east and south-west, you will first see the morning dawn in the east,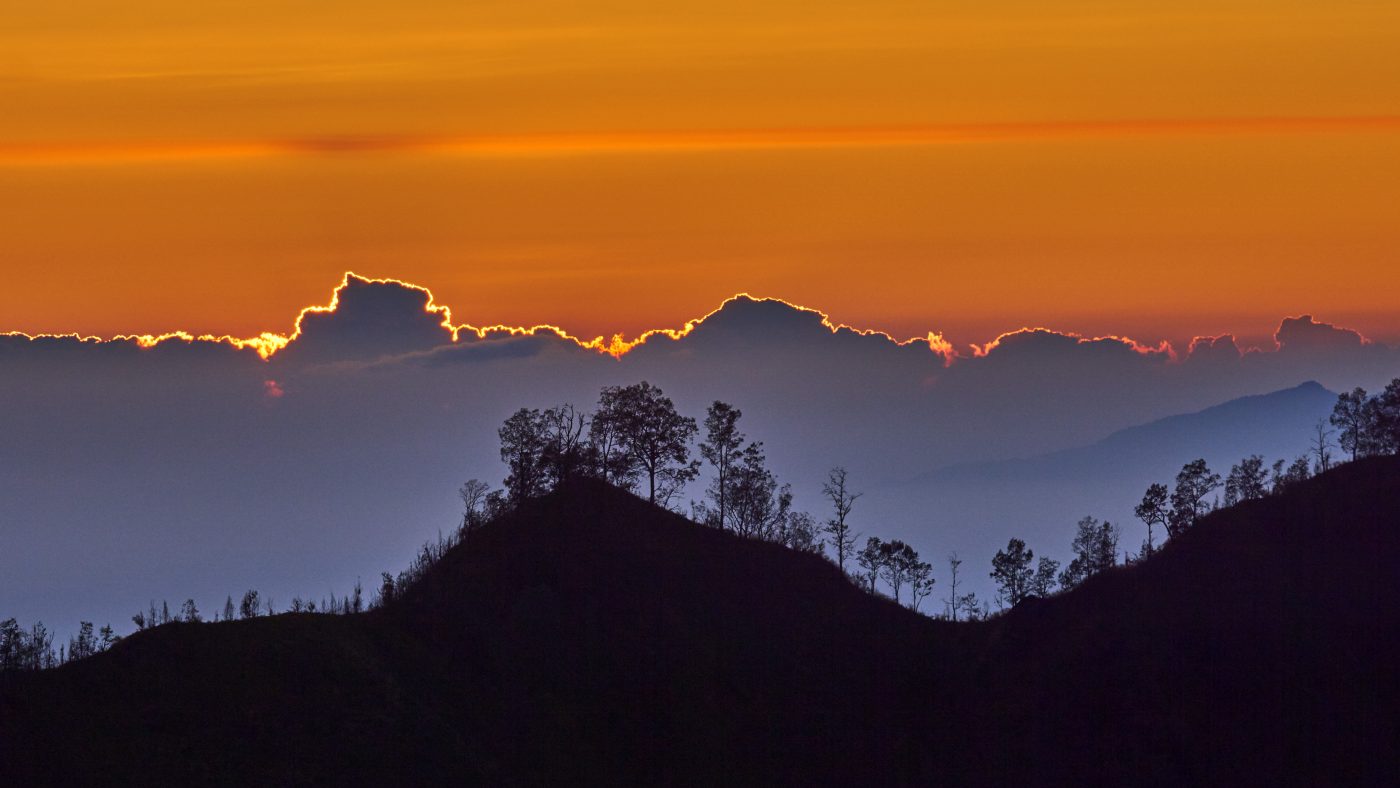 then the first rays of sunlight glistening over the clouds,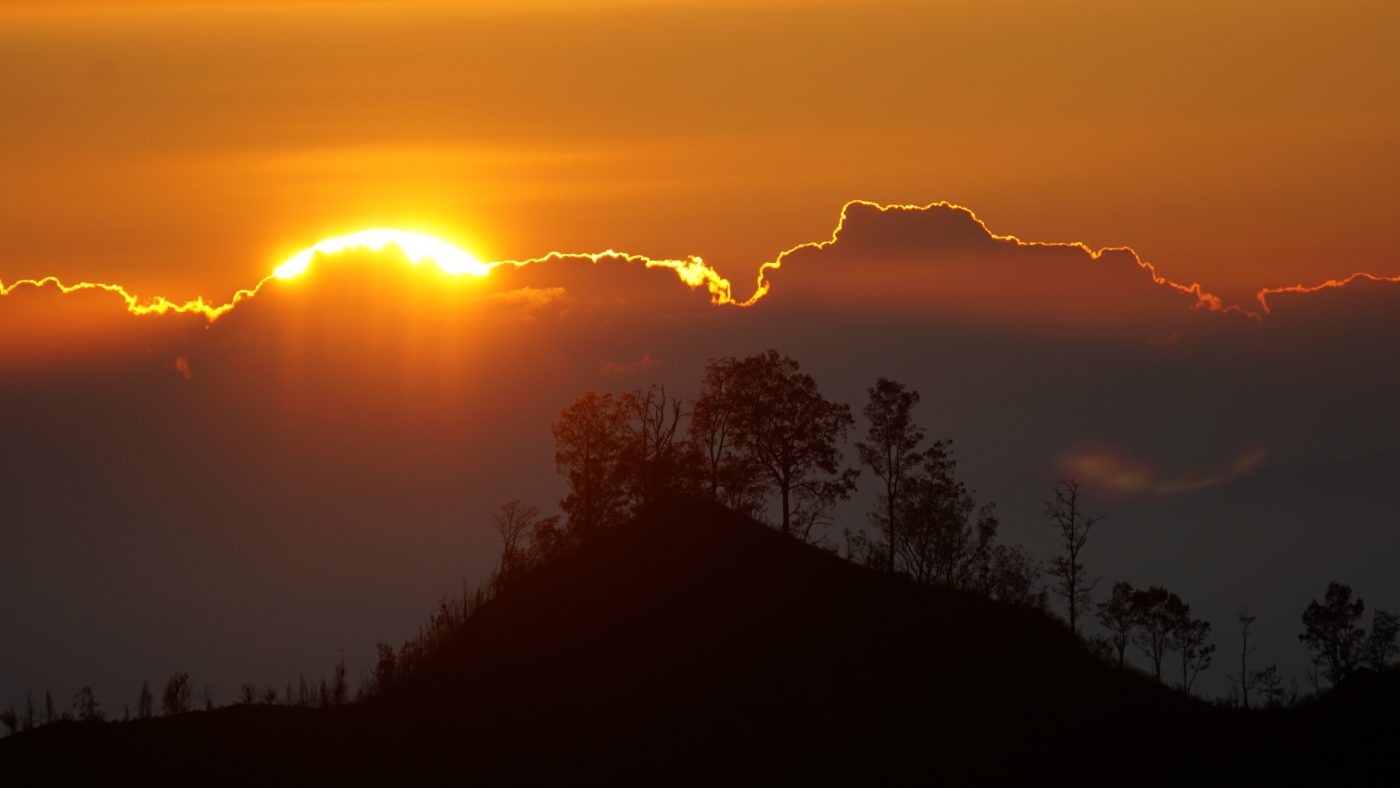 then when you turn around you get this view: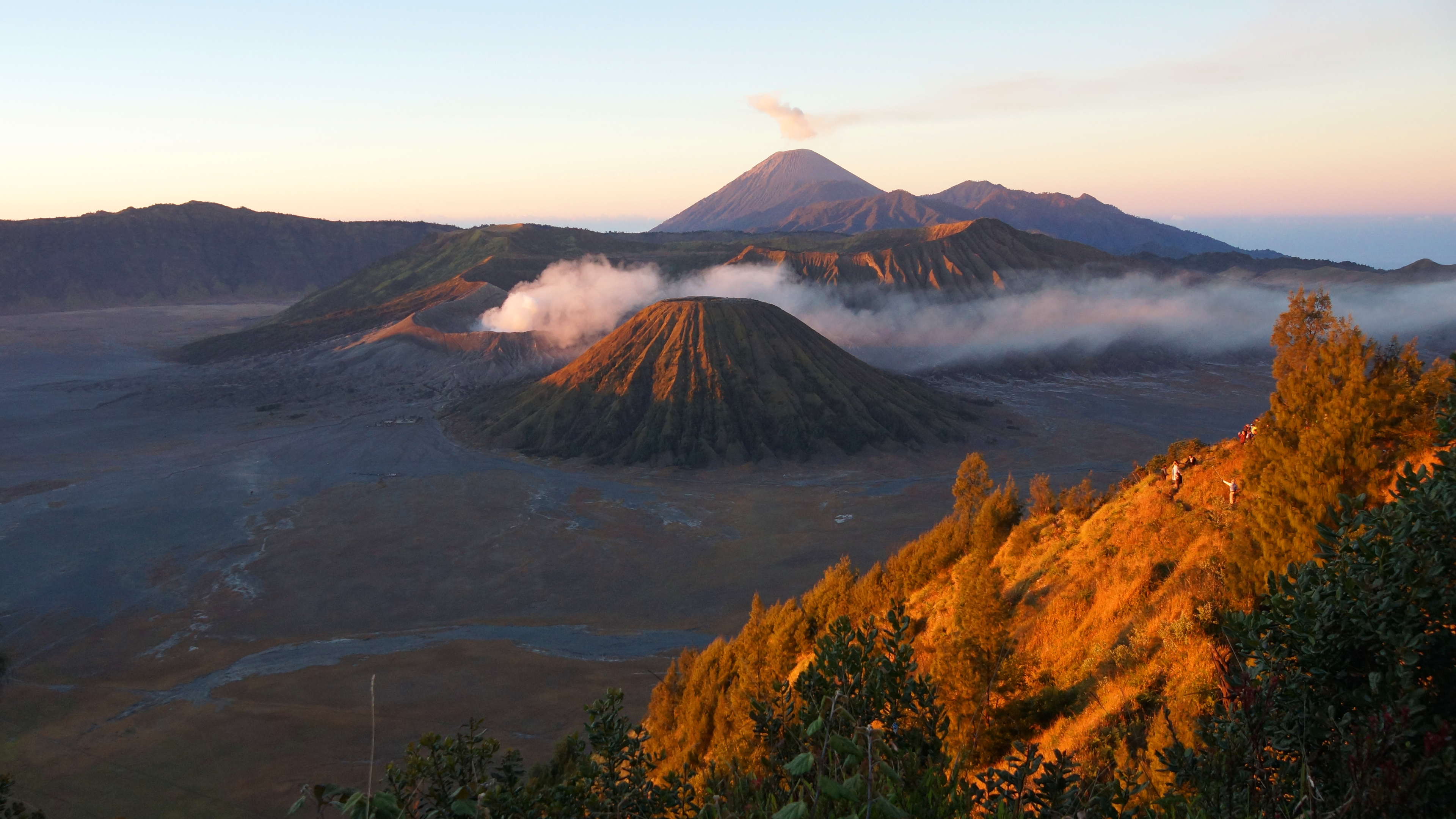 Here you see mount Batok and, behind it and a little bit to the left, mount Bromo smokes continuously. In the background, mount Semeru puffs little "atomic bomb mushrooms" every 25 minutes or so.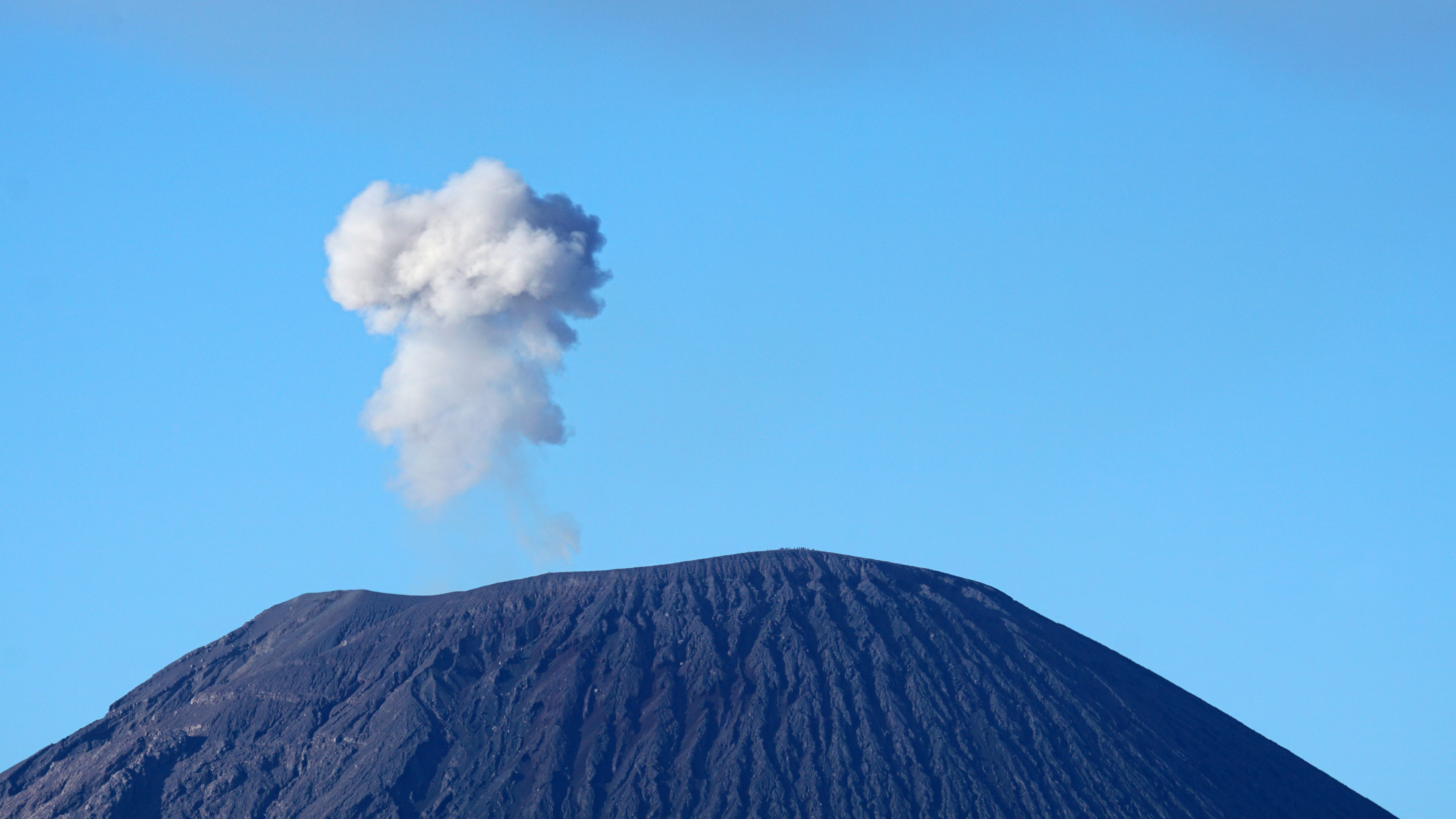 When zooming in on the peak, you can just about recognize a couple people standing around. And suddenly, the "mushroom" does look that small anymore…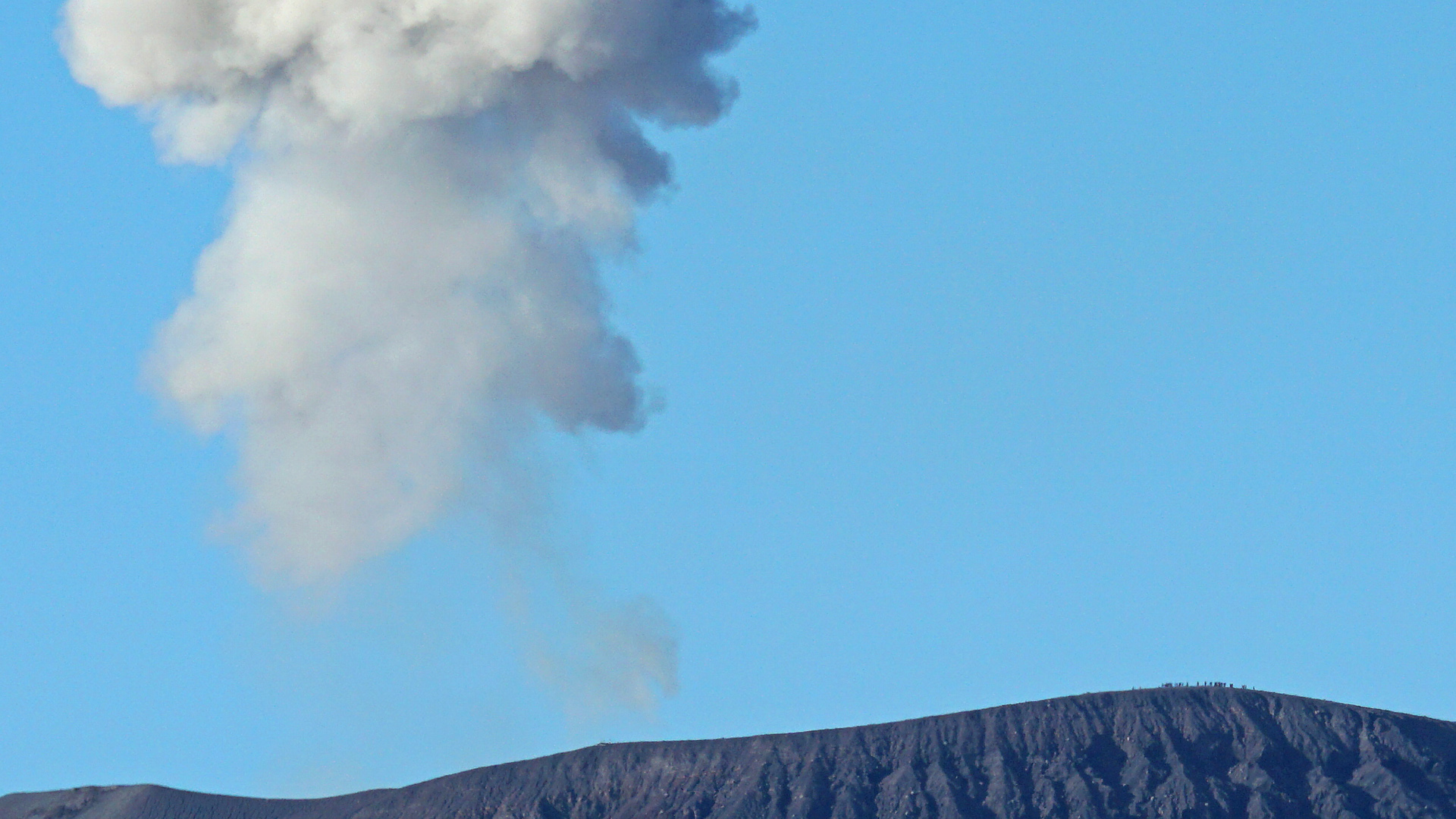 On Java, there is another very popular destination worthwhile an early rise: the Borobudur. The largest buddhist temple on earth receives about 2 million visitors each year. This equates to aound 5,500 per day, on average. But on weekends and during the main holiday season, it can be much more. Of course visitors scatter around the really big site, and not every visitor stays a whole day. But everyone wants to go to the top at least briefly, so it gets quite crowded up there during the main opening hours (which are from 6 to 6). Sometimes when the main gates opens in the morning, one can observe downright races up to the temple.
It is much better to afford the small luxury of a special Borobudur Sunrise Tour for around 35 USD, as offered by the nearby Manohara hotel. Then you can walk in already at 4:30, so you have enough time to walk up, look around for a good location well before dawn, and take in the sunrise before the crowds of (mostly local) tourists arrive and disturb the quiet atmosphere with their vociferous manner.
Only at this time, you have a chance to picture at least parts of the monument without people in the frame: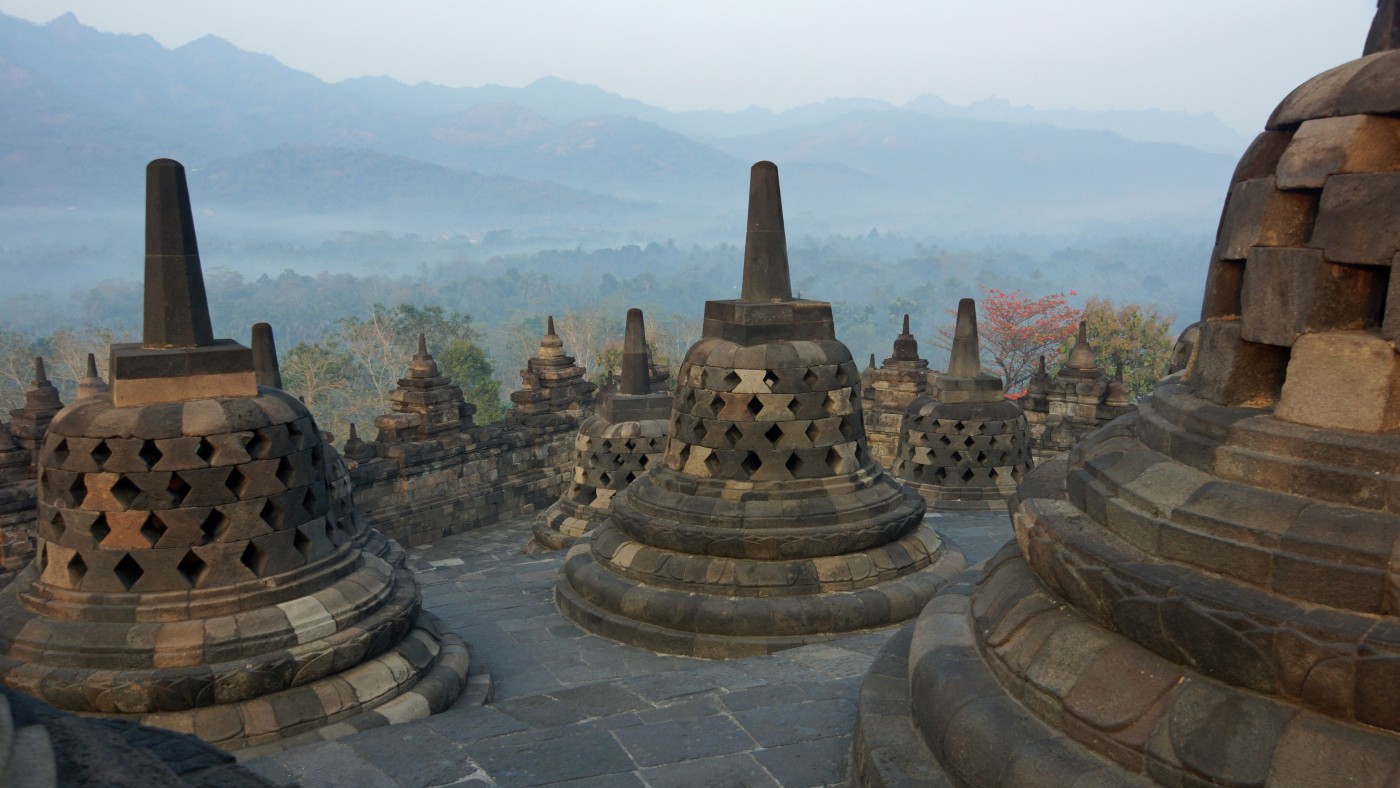 Early morning mist also makes Borobudur look really special from a distance: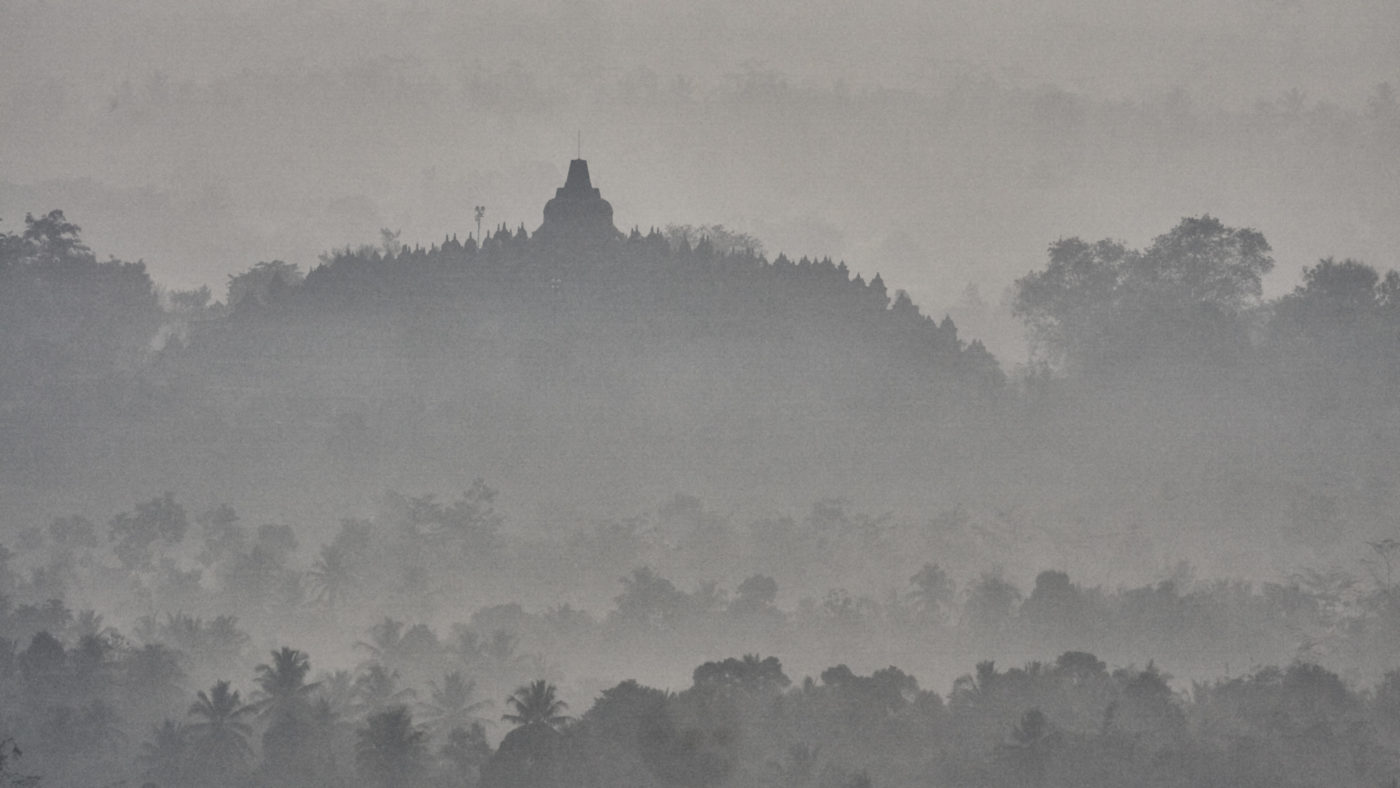 On site, this is what you get to see shortly before sunrise: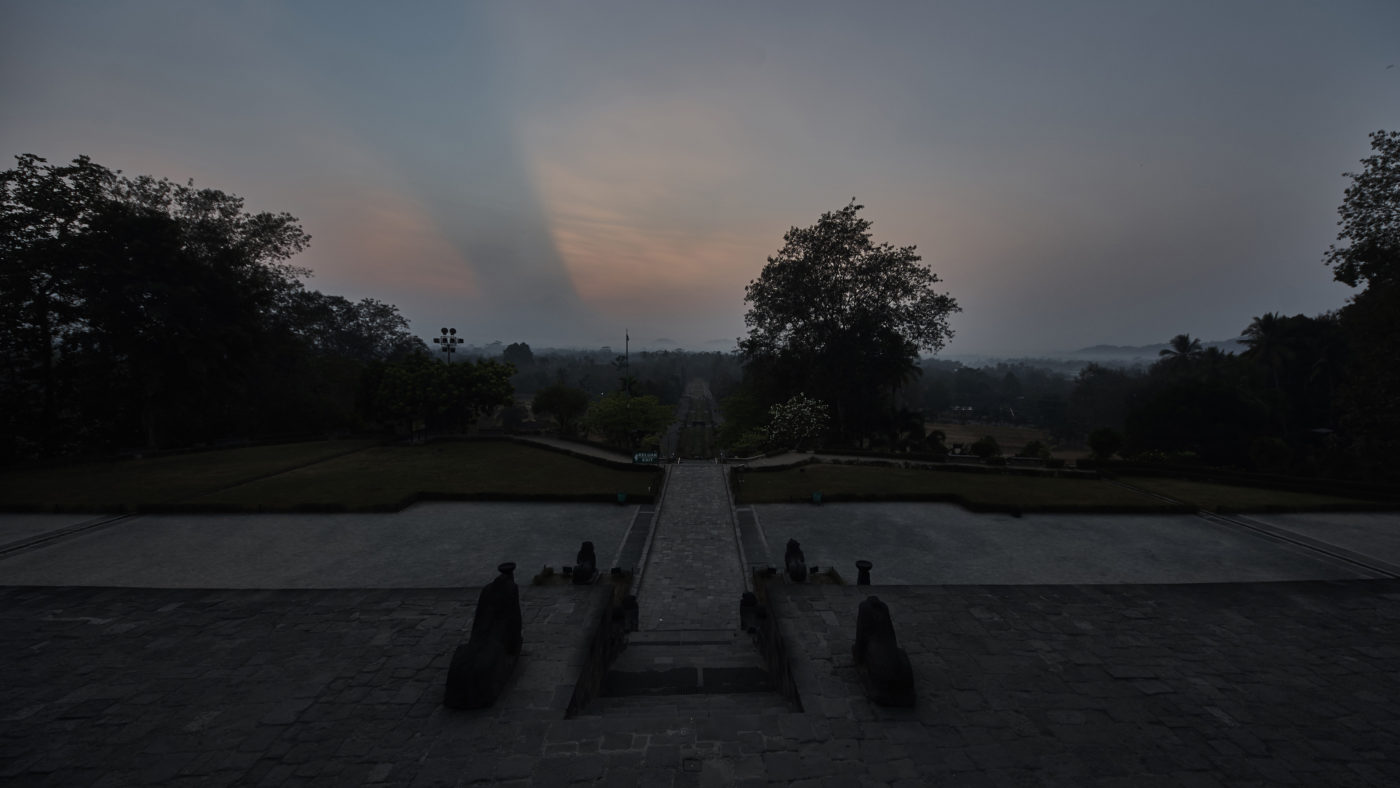 The dark shadow in the sky is thrown by the Merapi volcano east of Borobudor.
Everybody waits for the sunrise …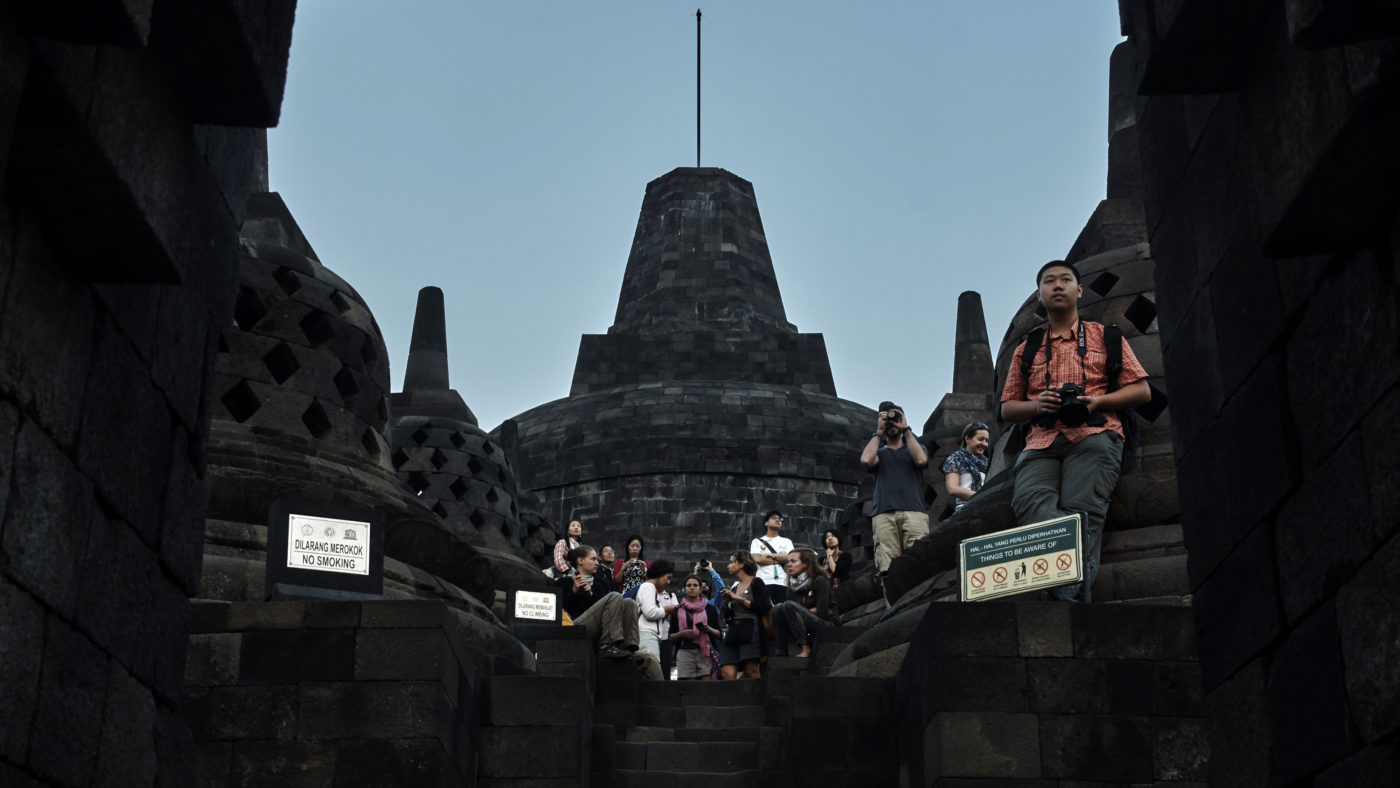 …instead of looking around and getting a view of the (seemingly untouched) tropical nature in the morning haze.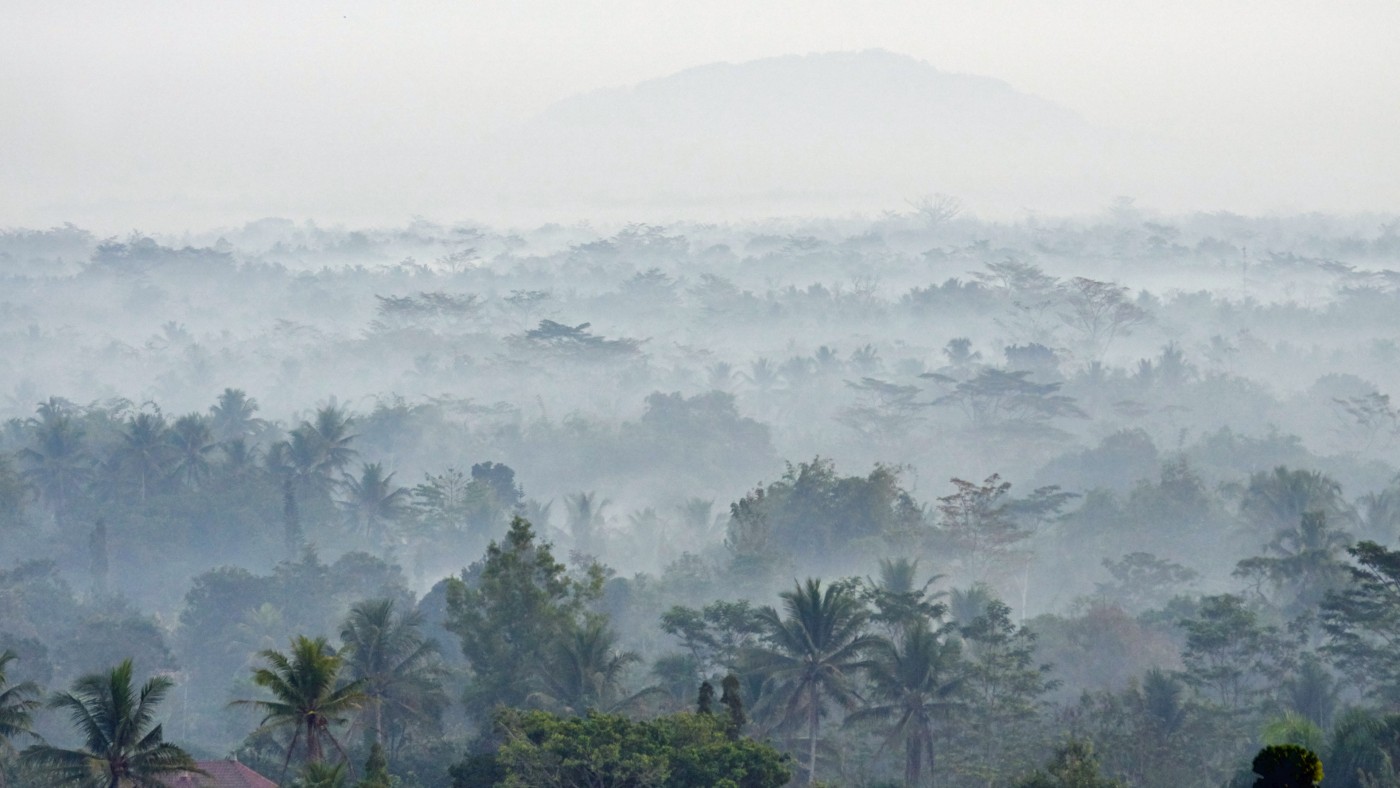 As soon as the sun rises above the volcano …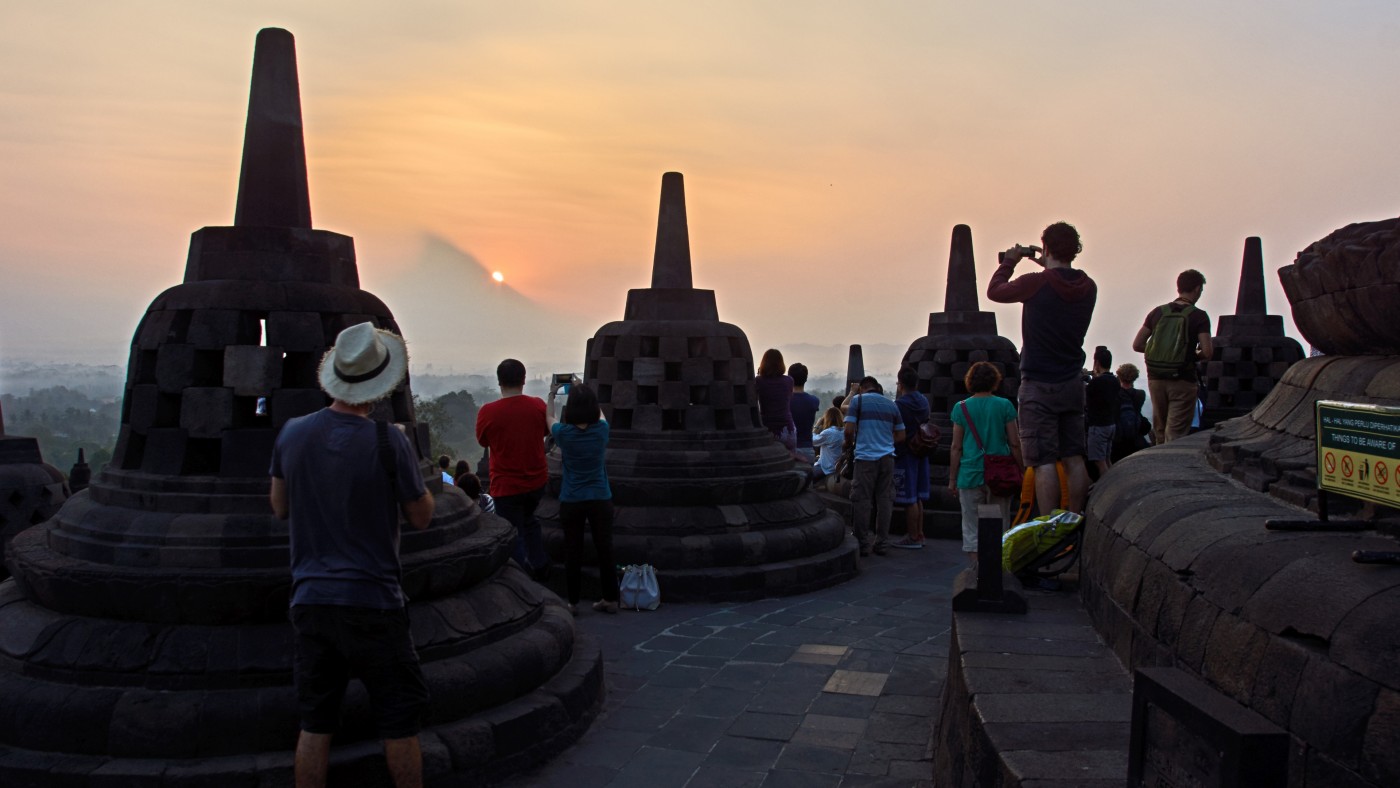 … and shines a warm light on the temple …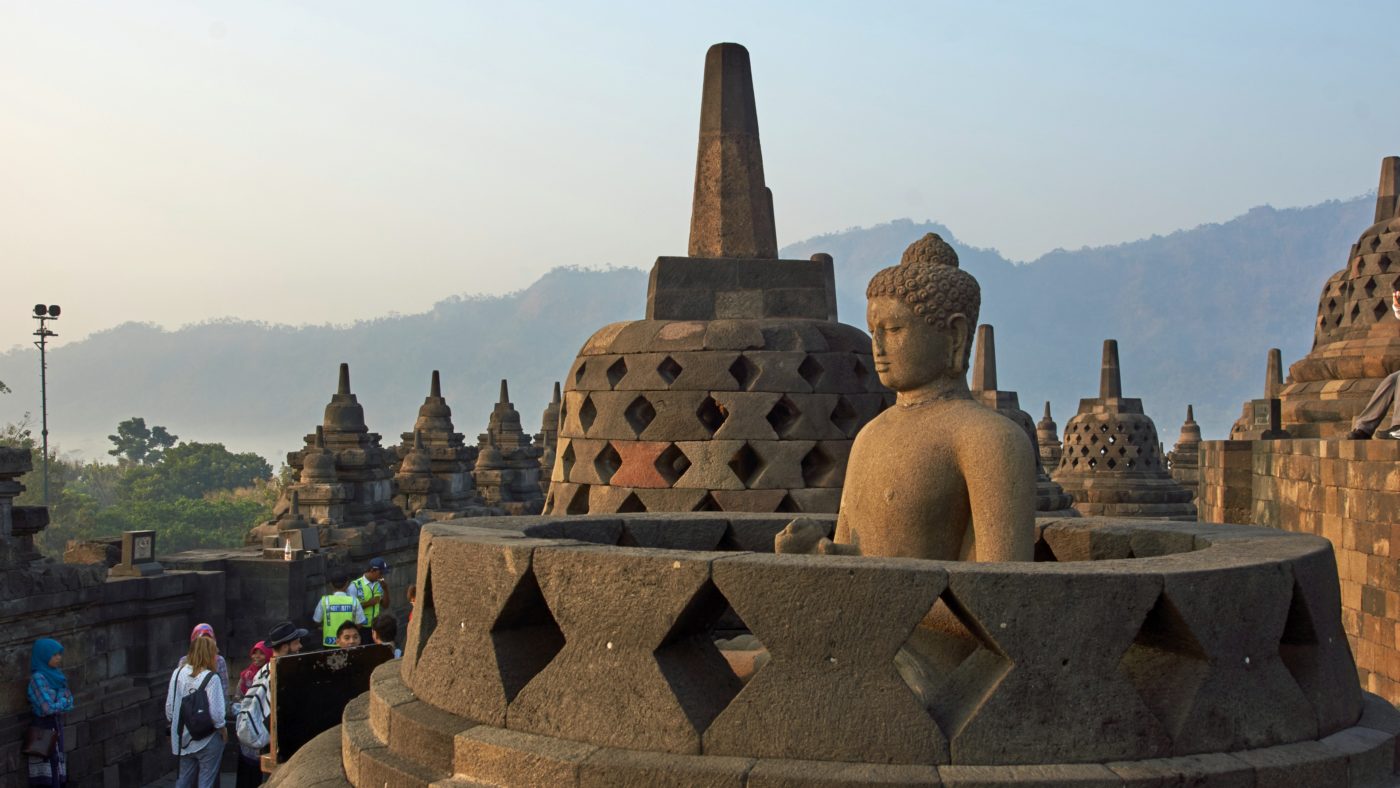 … it quickly gets blinding bright …
When the daytime visitors start rushing in, you already have the best pictures in your camera (or mind), and you can go back to the hotel for breakfast.