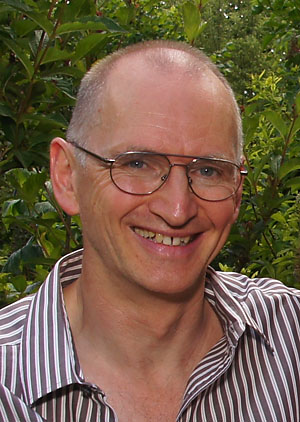 I'm electrical engineer and have seen the world on my job. Already in the early 80s I started to visit the partially exotic countries that my job brought me to, in my own private holiday trips.
My parents infected me with the "travel virus" already when I was 6. As early as the beginning 60s, we started doing holiday trips to "far away" countries like Denmark, Sweden, or Spain, from our home in Bavaria, south Germany. With our slow car, 3 younger sisters and brothers, and on the then bad roads, it took up to 3 days (one way!) to get to these destinations.
Thank you for this "infection", dear parents!
When I finished school, our English teacher organized a cruise on the Mediterranean, together with English students. It started in Naples / Herculaneo and lead us to the Gizeh Pyramids, to Jerusalem, lake Kinneret, Cyprus, Greece and finally Venice. I wish I could have taken photos back then, but at that time I couldn't afford a camera, I was glad I could afford the trip.
1985 I made my first business trip to India. Our Indian partner was so kind to introduce me not only to his clients, but also to his country, its habits and customs, and showed me local attractions. Also he patiently answered all the questions that I had about this absolutely fascinating country. Already during this trip I decided that I have to come here again on my own, to see and learn more about it.
Since then I visited many far away countries, also some which are not primary tourist's destinations.
Since a long time, I'm posting on VirtualTourist, Lonely Planet Thorntree and other travel and photography related internet forums, mostly as "wus" (my initials).
Over time, I built up a nice photo archive. Here you can see an excerpt from my directory.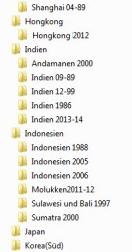 If you click on it, you will see a bigger portion, but it's still only a fraction. Most pictures are scanned slides, I switched to digital no sooner than 2011. The best of my newer pictures can be viewed and licensed on www.oneworldpicture.com.
Initially, when I started to explore places, I booked package tours. But I soon learned that they don't give you the time you need to adequately picture the unique places you visit. Or that you soon build a bad fame with your group buddies as the one who always keeps all others waiting…
Therefore I soon began to organize my trips myself, from the scratch. Showing around the photos that I brought home soon gave birth to the idea to let others participate in my experience in "tripology" and photography, which resulted in the photo-experience and private tours that I offer now.